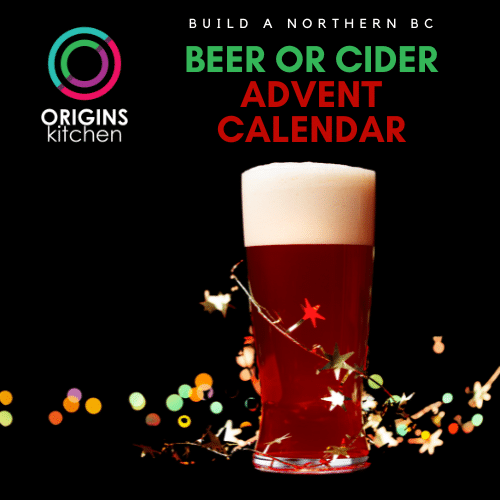 The holiday season is right around the corner, and Origins Kitchen in The Exploration Place is excited to announce a series of unique, pre-Christmas events that will add some local spirit to your holiday countdown.
Origins Kitchen proudly presents the "Build a Northern BC Beer Advent Calendar – 24 Days 'Til Christmas" on November 23rd and 30th, and the "Build a Northern BC Beer or Cider Advent Calendar – 12 Days 'Til Christmas" on December 7th. This special series of evenings invites you to select your favourite craft brews from the Northern BC Ale Trail, with the expert Origins team on hand to assist in crafting your customized 24-day or 12-day calendar.
Guests will not only get to build and personalize their own adult advent calendar but will also enjoy the museum galleries, delectable grazing platters, and mouthwatering desserts prepared in-house by Origins Kitchen. Additionally, guests will receive a drink ticket and have exclusive access to the bar in The Exploration Place's captivating Gaia Gallery.
Jeni Arnott, Manager of Origins Kitchen, has thoughtfully curated a selection of brews from the Northern BC Ale Trail, showcasing the rich diversity of flavours available in the region.
"We're excited to host this event with beers selected from breweries all over Northern BC," says Arnott. "Since we're a museum and a science centre, we're planning to highlight the science of beer making, plus we have chosen beers with historic backstories and ingredients native to their surrounding land."
This adults-only evening promises a delightful holiday celebration, a chance to explore local beers or ciders you might not have experienced, a dash of science and history, and the added bonus of supporting a Northern BC non-profit organization and a registered Canadian charity.
Tickets are now available for purchase on The Exploration Place's website. Click below for tickets.