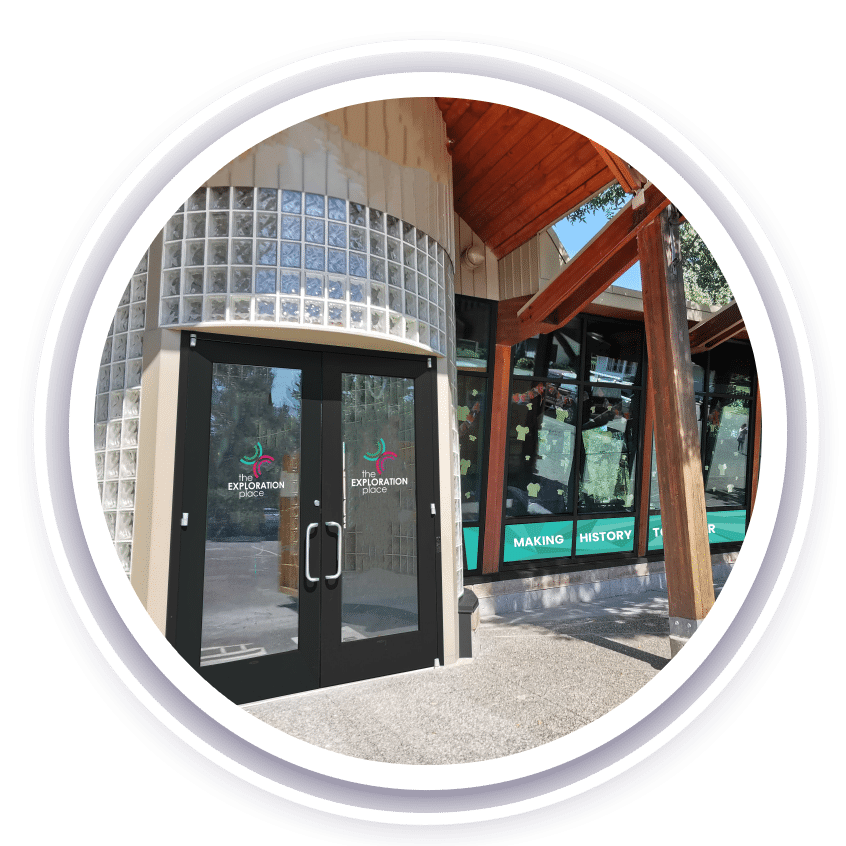 See below for more information and FAQs.
The Exploration Place is going digital.
We are excited to introduce digital membership cards as a benefit of membership! Digital membership cards can be downloaded and saved to your smartphone. Going digital means you never have to worry about forgetting your membership card, in addition to being more environmentally friendly and helping to reduce administrative costs. We hope these answers to common questions help you understand your new digital card. Additional questions can be directed to
We are rolling out this new system as we speak! You can expect to receive your digital cards before our reopening in Fall of 2022. 
USING YOUR DIGITAL MEMBERSHIP
How will I use my digital membership card?
Your digital membership card is unique to your membership and displays your name, membership level, expiration date, and a barcode for us to scan. Simply show your digital membership card to our staff at the Admissions Desk to take advantage of your member benefits!
How do I receive my digital membership card?
Digital membership cards will be sent to the primary email address of every active member. You will need to open this email on your mobile device and follow the instructions to download the card. The card will automatically be stored in your phone's wallet app. Android users may need to install Wallet Passes from the Play Store prior to downloading your card.
What if I don't have a wallet app installed on my phone?
The email you receive will provide step-by-step instructions and a link to download the recommended wallet application to store your digital membership card and similar types of digital cards and passes.
UPDATING YOUR DIGITAL MEMBERSHIP
Will my digital card update when I renew my membership?
Yes! The digital card will automatically update when your membership information changes. For example, your expiration date and membership level will automatically update the next time you renew or upgrade your membership. This means that you only have to download the card once!
RECIPROCAL MEMBERSHIP
How will my reciprocal benefits work when visiting other museums or science centres?
Digital membership cards display CASC and ASTC banners and list participation in the reciprocal programs as a benefit of the membership level. Simply show your digital membership card at participating museums and science centres to receive free or reduced admission!
GROUP MEMBERSHIP
Will everyone on my membership also receive a digital membership card?
Yes, for any group membership, each member will receive a unique digital membership card via email. If a membership with more than one member has only one email address on record, then all digital membership cards will be sent to this email address. Members can then forward the email or use the share feature of the wallet app to ensure that other members with smartphones receive their digital membership card.
GENERAL FAQ
I'd prefer not to use this digital membership card, what should I do?
By default, all members will now receive a digital membership card sent to the email address you provide. If you prefer to receive a physical membership card, please contact us.
My name is spelled wrong/membership level is incorrect.
Please contact us or log in to your account to update your membership records.
I haven't received an email about my digital card, what can I do?
Many of our members prior to our closure in 2020 did not provide us with an email address. Please contact us at info@theexplorationplace.com, 250-562-1612, or the Admissions Desk to provide us with your email address, and we will make sure you get your cards.
I downloaded my card but I can't find it.
If you have an iPhone, the card will automatically download to Apple Wallet. Check the app for your new card (scroll through any cards that are already there–it may be hiding!). If you have an Android, you'll need to download Wallet Passes from the Play Store prior to downloading the card.