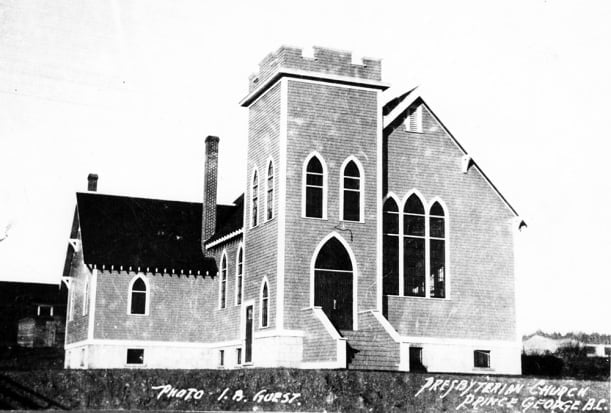 Knox United Church
In November 1922, A new Knox Presbyterian Church complete with a basement, vestry, balcony above the entrance lobby, and offices was officially opened on five lots at the corner of 5th Avenue and Brunswick Street in Prince George. The building was designed by Henry Wilson, Architect, (and also our fourth mayor) in conjunction with a building committee chaired by A.B. Moffat.
A small Knox Presbyterian Church had been constructed in South Fort George in 1910, but due to population expansion in the Prince George town site arising from the advent of the Grand Trunk Pacific Railway, this structure was relocated to the corner of Patricia Boulevard and Queensway Street in 1915. By 1920, church attendance had expanded to the extent that larger facilities were needed, and plans were made for a new church downtown in Prince George.
A union of Presbyterians, Congregationalists and Methodists across Canada formed the United Church of Canada in June 10, 1925, and in Prince George the name for the faith became the Knox United Church.
Text Courtesy Trelle Morrow