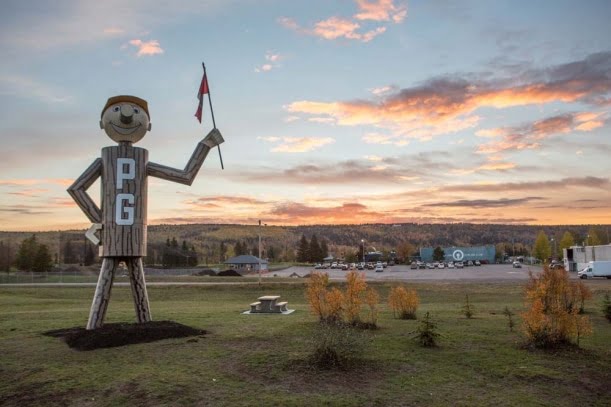 Mr. PG
The idea for Mr. PG originated with Harold Moffat in the late 1950s. Moffat believed that Prince George needed a mascot, similar to Paul Bunyan in Oregon, who could promote the forest industry and represent the city. Moffat approached Hans Roine, a local Rotarian and sawmill owner, with the idea. By 1960, the first Mr. PG was created: five feet tall and made entirely of wood, he stood outside the former Simon Fraser Hotel on Quebec Street.
Mr. PG was an instant hit, leading the City to build a larger 11.6-metre (38-foot) version atop a parade float for the 1961 Elks May Day Parade. Mr. PG then hit the road, winning first place in the Kelowna Regatta parade and second prize in the Pacific National Exhibition parade. Mr. PG gained national recognition when he appeared in the 1963 Grey Cup Parade in Vancouver.
Mr. PG was eventually placed on permanent display in front of the Chamber of Commerce, then located at the corner of George Street and 1st Avenue. In 1970, he was moved to the intersection of Highways 16 and 97. In 1983, the old wooden version was replaced with the current metal and fiberglass Mr. PG. He stands 8.14 metres (27 feet) tall and contains a time capsule in his chest.
In 2009, Mr. PG appeared on a stamp as part of Canada Post's Roadside Attraction series. He has been celebrated in song, and even has his own Facebook page!
Mr. PG is a registered trademark of the City of Prince George.
Photo courtesy Tourism Prince George