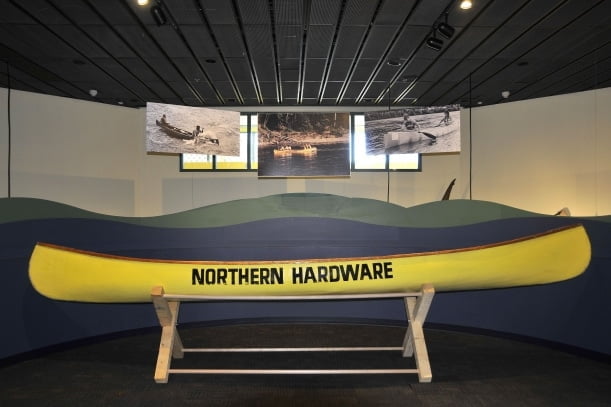 Northern Hardware Chestnut Canoe
This 18-foot wood and canvas Chestnut canoe was a regular entry in the Northern Hardware Canoe Race, held annually from 1960 to 1984. The race drew teams from across North America to paddle a challenging 67.5-kilometre downriver course from Isle Pierre to present-day Lheidli T'enneh Memorial Park.
In 1972, race organizer Northern Hardware provided the Chestnut canoe to local teenagers Tom Blackburn and Dan Palumbo so the pair could enter the new junior race, which started at Miworth. Blackburn and Palumbo powered the canoe to a first place finish in their 11-team field. Palumbo paddled the canoe in every race afterwards, with various partners, until the event ended in 1984. The canoe remained in the Palumbo family until it was donated to The Exploration Place in 2011.
In 2015, local canoe enthusiasts reinstated the Northern Hardware Canoe Race. Today's race covers the same routes, with new classes for solo canoes, kayaks and paddle boards.