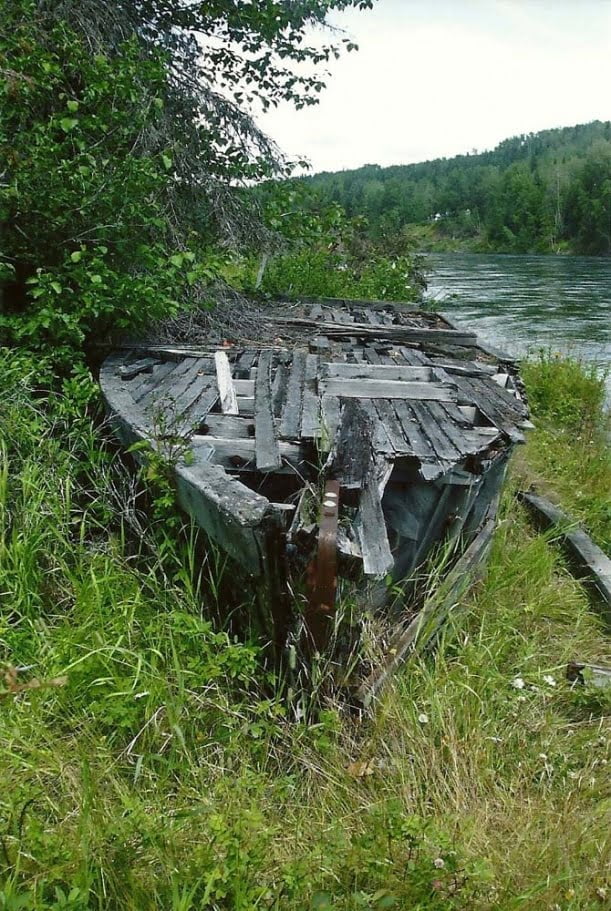 Reaction Ferry at Miworth
In his book Silent Passage, Fort George Reaction Ferries Trelle Morrow details the important role of these ferries before bridges crossed the Fraser and Nechako Rivers. This picture shows the remains of the pontoons of a reaction ferry that operated at Miworth from 1922 to the mid 1940's.
As Trelle describes, "A reaction ferry is a vessel that uses the river current to propel itself across the water. In our early ferry history, canoes and boats were fastened together, side by side, and a platform spread across to carry freight and even animals. Larger scow ferries were fastened to an overhead cable and propelled across the water taking advantage of the reaction principle." The Miworth site (located on private property) is one of the very few places where reaction ferry artifacts still exist. Ferries also operated at Isle Pierre, near Prince George and at numerous other sites upstream on the Fraser.